Futures Market Near Certain Prime Rate Will Remain at 3.25% After Tomorrow's FOMC Meeting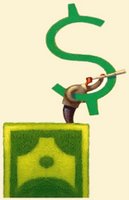 The Federal Open Market Committee (
FOMC
) decided to turn a one-day monetary policy meeting into a two-day meeting, so we'll have an announcement on short-term interest rates tomorrow afternoon. It's a pretty safe bet that the Fed will leave short-term rates, including the Prime Rate, exactly where they are. Only 3% in the fed funds futures market are betting that the Fed will opt to raise short-term rates by at least 25 basis points (0.25 percentage point) tomorrow.
--
As of right now, the investors who trade in fed funds futures at the Chicago Board of Trade have odds at
97%
(as implied by current pricing on contracts) that the FOMC will vote to leave the benchmark target range for the Federal Funds Rate at its current level at tomorrow's monetary policy meeting.
Summary of the Latest Prime Rate Forecast:
Current odds that the Prime Rate will remain at the current

3.25%

after tomorrow's FOMC monetary policy meeting is adjourned:

97%

(very likely

)

NB: U.S. Prime Rate = (The Federal Funds Target Rate

+ 3)
The odds related to federal-funds futures contracts -- widely accepted as the best predictor of where the FOMC will take the benchmark Fed Funds Target Rate -- are constantly changing, so stay tuned for the latest odds.
Labels: odds, prime_rate_forecast