Futures Market 100% Certain U.S. Prime Rate Will Remain At 3.25% After The June 23 FOMC Monetary Policy Meeting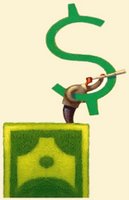 Looks like Wall Street is loosing faith that the American economy can pull off a sustained and lasting recovery.
Earlier today, stocks reacted negatively to news that
retail sales
fell by 1.2% last month. Economists were expecting a rise of 0.2%.
Moreover, Wall Street money, which was starting to make it's way back to stocks and other relatively risky investments, now seems to be turning back to the safety of government debt. The yield on the 3-month US Treasury Bill fell to 0.07% moments ago. It was as high as 0.17% as recently as May 19 of this year.
The yield on the benchmark
10-Year Treasury Note
fell to 3.22% today. It was 3.90% as recently as April 8 of this year.
New York Spot Gold is currently trading at $1,226.50 per ounce. Yikes! It was $938.30 per ounce about a year ago (June 12, 2009.)
--
As of right now, the investors who trade in fed funds futures at the Chicago Board of Trade have odds at
100%
(as implied by current pricing on contracts) that the FOMC will vote to leave the benchmark target range for the Federal Funds Rate at its current level at the June 23
RD
, 2010 monetary policy meeting.
Summary of the Latest Prime Rate Forecast:
Current odds that the Prime Rate will remain at the current

3.25%

after the June 23RD, 2010 FOMC monetary policy meeting is adjourned:

100%

(certain

)

NB: U.S. Prime Rate = (The Federal Funds Target Rate

+ 3)
The odds related to federal-funds futures contracts -- widely accepted as the best predictor of where the FOMC will take the benchmark Fed Funds Target Rate -- are constantly changing, so stay tuned for the latest odds.
Labels: odds, prime_rate_forecast